Rebounding from decades of brutal communism, Albania is a hidden gem brimming with unexplored cobblestoned streets, picturesque towns straight out of a fairytale, pristine beaches lapped by turquoise waters, and unspoiled mountains.
Albania's isolated past under the repressive dictator, Enver Hoxha, makes it a relatively unknown country, but its enigmatic nature is its biggest draw. Sealed off from the rest of Europe for much of the 20th century, the mountainous silhouette of Albania is not teeming with tourists like its neighbors – Greece, Montenegro, and Croatia – but it certainly holds a candle to them.
After ridding the shackles of communism and swinging open its gates in the early 1990s, the small Balkan country is gradually being discovered by curious travelers. At 11 square miles, the "land of the eagles" offers some of the most sparkly white-sand beaches that take you to its insanely turquoise waters, untouched valleys and mountains that are begging to be explored, and stunning, well preserved Ottoman towns .
This ancient, beautiful country is home to a growing population of three million people – some are making their way home after fleeing the communist region years ago. And I can see why; it's hard not to miss Tirana, one of the most underrated and vibrant capital cities on the Balkan Peninsula.
Albania has had a dark history and traces of the brutal communist regime of Envar Hoxha can still be found throughout the country. However the country has made a remarkable comeback from their tumultuous history. Albanians had suffered a lot during that era but you would not be able to see that because of just how kind and friendly people are here.
Although Albania tourism is at it's infancy, this sector will surely boom in the coming years, because the country is emerging as an exciting Mediterranean destination and a much cheaper alternative to countries like Italy.
Language
The local language spoken by 98% of its population is Albanian, and it is the only surviving descendant of the extinct Illyrian language. Hence, Albanian is a very unique language, unlike any other.
Greek and Italian are two other prominent languages used in Albania. Greek is spoken by the Greek minorities living here and the Albanians who work in Greece. Since an Italian protectorate over Albania existed from 1917 to 1920, quite a few locals know Italian and it's a popular second language for students because there are many Italian companies in Albania.
English is also widely taught and known by the newer generation. Most people working in the tourism industry and the capital will know conversational English, thus, not knowing Albanian is not going to be much of an issue.
Religion
Albania has been a secular country for a long time. Christians and Muslims have been living peacefully in Albania for centuries without any conflicts. It is very common for marriages to take place between adherents of different religions.
The dominant religion in Albania is Sunni Islam, however, most people tend to be fall under the more liberal version of Sunni Islam called Bektashi (Sufi order).
Visa
85 different nationalities can travel to Albania without a visa for a maximum of 90 days. You can click here to see the list.
Indians and nationalities not on the list can travel to Albania for up to 90 days with a valid multiple-entry visa issued by a Schengen area country, United States, or the United Kingdom. The visa must have been used at least once before your arrival in Albania, and the visa can be used at all entry points, on the road and at seaway.
Make sure you have contacted the embassy regarding the requirements for entry so that you can show the printout of the email to hasten the process of entering Albania.
Money
At the time of writing, 1 USD was worth 109.13 ALL. You need to convert your money into the local currency because only a few travel companies and hotels will accept Euros. ATMs are present throughout the country, even in small towns. Credit cards are also widely accepted.
Food
Traditional Albanian food is rich in flavor, extremely tasty, and heavily influenced by the Ottomans or "Turks." But it isn't just the Ottomans that made its way into the kitchens here, the Greeks and Italians have also. Below is a list of the main dishes that play a role in the gastronomical mecca of Albania. 
Inarguably, visitors must try the country's national dish, Tavë Kosi, a comfort dish primarily made up of lamb, eggs, yogurt, and spices – the key ingredients in Mediterranean cuisine. A comforting classic, Tavë Kosi is baked until its creamy cheese-like crust is a nice golden brown. Call it a casserole or call it a quiche, this divine dish is also popular in Greece and Turkey, where it goes by a different name: Elbasan Tava.
Another beloved dish is the Turkish-influenced byrek, which is possibly Albania's most famous food. It's a savory pastry made of a thin flaky dough known as filo and stuffed with feta cheese, cabbage, spinach, tomatoes and meat. Some are made without meat, so vegetarians can enjoy it as well.
Main Dishes
Fërgesë
There are tons of other vegetarian options across the country, and one of them is fërgesë, which translates to fried curd. It's another one of Albania's signature dishes, typically made of a rich curry infused with peppers, tomatoes, cottage cheese, and spices, and often served with bread as an appetizer. This is commonly found in the central region of the country, including the capital, Tirana. 
Speça me Glizë
One of my favorite Albanian dishes, speça me glize is made with an assortment of peppers stuffed with rice, cottage cheese and spices before it's baked in the oven. It's another classic served in many restaurants here that vegetarian travelers can indulge in, but beware that some places like to add meat inside. Regardless of meat or not, this dish is very filling and very cheap, like many dishes in the country.
Shëndetli
This popular local dessert is one that many Albanians grew up eating. It's a delicious honey walnut cake soaked in hot syrup overnight. The recipe calls for both honey and syrup, so this traditional treat is best for those with a sweet tooth. Note that some people prefer to make it with whole walnuts and others tend to add ground walnuts, but half and half might just be the perfect combination.
Places to See
Tirana
As the beacon and capital of the revived Albania, the Tirana streets are throbbing with charming cafés, buzzing bars, fun festivals, and even remnants from its Communist history. You'll find bliss amid the lively commotion of colors in Balkan Peninsula's most vibrant city.
To say Tirana is the heartbeat of Albania is an understatement. With an influx of skyscrapers transforming the capital's skyline, it's quickly becoming the Balkan's next big travel destination. Every corner you turn, you'll find new shops, restaurants, and bars springing up in old neighborhoods that are quickly turning into art hubs. Meanwhile, some of the communist-era structures still stand, but that's the charm of Tirana – a city of utter juxtapositions.  
Tirana was only established as the country's capital in 1920, but it existed for years under Ottoman rule before the Italians occupied it. Their presence can still be felt throughout the town with the minarets and Italian architecture dominating the main squares. You'll also see many churches and mosques scattered throughout the city as Albania is a secular country.
After the Italians came the communist forces and indication of those darker days are still present to this day. For example, landmarks such as the Pyramid of Tirana was built in honor of the former dictator Enver Hoxha. However, Tirana has come a long way since then, and the grey communist buildings have given way to colorful buildings and beautiful squares. Perhaps one of the most colorful cities you'll see in Europe, Tirana's painted facades, geometric patterns, and colored graffiti surprise most visitors.
Things to See in Tirana
Skanderbeg Square 
A huge tourist attraction, Skanderbeg Square is named after the Albanian nobleman who led a rebellion against the Ottomans. It is here at the city's main square where you can truly get a sense of Tirana's communist past and its new status as a prospering metropolis, along with the Ottoman and Italian influences. The square is home to a beautiful mosque, National History Museum and the opera. You should certainly visit the mosque and the National History Museum to delve into the fascinating history of Albania.
Blloku (The Block)
The famous Blloku district is made up of a dozen or so streets that used to be a restricted area during the communist era, privy to the communist elite. You can even find dictator Enver Hoxha's former residence in the heart of Blloku, like a strange reminder of the past. Although the abandoned villa is closed to the public, you'll often see it open for temporary exhibitions.
Today, the area is the epicenter of Tirana's great nightlife scene with intriguing bars and cafés all around. Known as one of the liveliest and coolest neighborhoods in Tirana, you can't go wrong if you start your night here. See where it takes you!
BunkArt
Another communist-era structure is BunkArt, a cold war bunker that has been converted into a history and contemporary art museum in the outskirts of Tirana. It was built by communist dictator Enver Hoxha, who suffered strong paranoia during his 50 years of regime, which explains why he completely closed off Albania to the outside world. Hoxha was always fearful of a nuclear war and invasion by the United States or the Soviet Union. This fear led him to build 750,000 bunkers throughout the country, including this one which has been turned into a museum.
The sprawling bunker is five stories high with over 100 rooms. Though it was intended to protect his cabinet and family, it is now a museum and contemporary art showroom that gives insight into the dark and mysterious life under communist rule in Albania. BunkArt is a must-visit!
Entrance fee for the BunkArt is 500 ALL. It is open from 9 AM – 16:00 PM, and closed on Mondays.
Take the Dajti Ekspres Cable Car
Tirana is surrounded by mountains and you can actually take a cable car to one of them: Mount Dajti. Nature lovers will appreciate the 15-minute cable car ride to the 1613-meter peak just east of Tirana. Once you get to the top of this mountain-turned-national park, you'll be bestowed with breathtaking, panoramic views of Tirana. Hiking trails and restaurants will be a feast for the eyes and stomachs of nature lovers.
The price for one way is 500 ALL and 800 ALL for a round trip. The hours are 9AM – 10pm in July and August; 9AM – 9 PM in May, June, September, and October; 9AM – 7PM from November to April.
Pyramid of Tirana
The majestic pyramid is yet another reminder of Albania's dark past not yet entirely forgotten. Formerly the Enver Hoxha Museum, it was built in 1987 by Enver Hohxa's daughter and son-in-law as a mausoleum for him after his death. After the fall of communism, the pyramid was used as a convention center, and then a military staging area before it was eventually left to its demise. The crumbling pyramid has unofficially become the symbol of the city and it is also a popular hangout spot for Tirana's teens (especially young skaters). You can even climb up the pyramid!
See Tirana's Street Art and Colorful Buildings
Giving life to the communist-era buildings was probably the best decision made by the first elected mayor of Tirana, Edvin "Edi" Rama, who's now the prime minister of Albania. Strolling through town, you'll come across bright murals, captivating street art graffiti made by famous Albania street artists, and a melange of colors on the facades. Tirana's street art scene is heavily promoted by the local administration, with initiatives to support local and international creatives. And the best way to experience it is by exploring the Blloku district; you'll feel enlivened just by admiring the dancing colors of Tirana.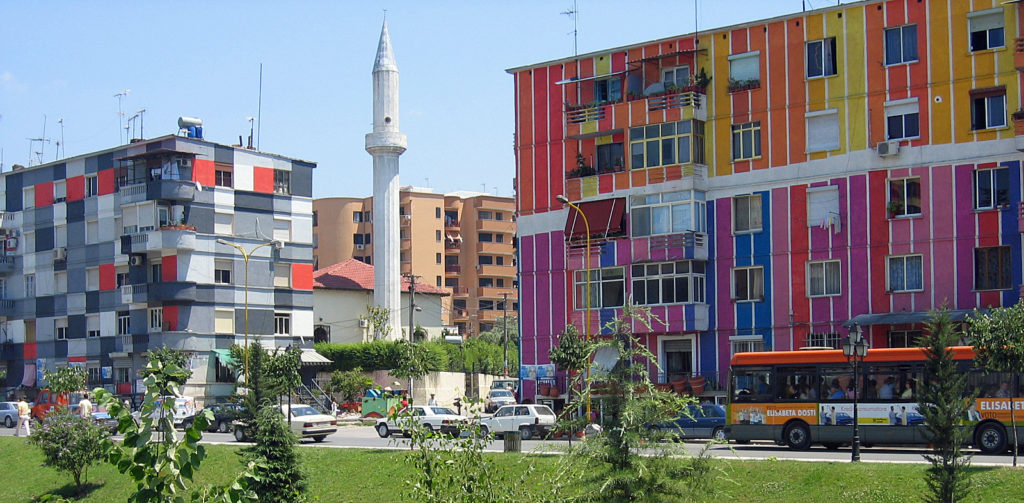 Where to Stay
When it comes to accommodation, there are not many top-notch hostels to choose from, but D1 Hostel and The English Hostel show seriously good value for money. Not only do they boast clean rooms and great atmospheres, but they're also nearby the heart of Tirana. A night in a six-bed dorm, including breakfast costs 8 euros.
If you prefer a higher-end accommodation, do check out Sar'Otel Boutique Hotel and Mondial Hotel, which are both just a short walk from Skanderberg Square. Sar'Otel offers many features, such as an on-site bar, private bathrooms, free WiFi, daily breakfast, and balconies in most rooms. Similarly, Mondial Hotel has a winery, rooftop terrace, seasonal outdoor pool, sauna, free buffet breakfast, and free WiFi.
Recommended Restaurants & Bars
Hemingway Bar
Travelers may be surprised to find a Hemingway-themed bar in Tirana, but this is the coolest bar in town. Its interior is decked out with old-fashioned Albanian décor reminiscent of those in the 1970s and '80s. Patrons can bask in the great atmosphere while indulging in over 100 types of rum – the largest in the capital – and a variety of liquors, such as the rakia. Try to come on a weekend because the bar hosts regular jazz nights.
Lincoln Park
Tucked away in the garden of a Blloku villa – namely dictator Enver Hoxha's former house – Lincoln Park is a great café to enjoy a cup of coffee or a bottle of booze on warmer days. If you're hungry, the serene spot provides scrumptious snacks. In addition to the indoor seating, there are outdoor tables that'll make you feel like you're sipping coffee in a cozy park. And if you're towing your kids along, there's a kid-friendly yard that'll keep the youngins busy while you leisurely enjoy your drink! If you happen to go on a movie night, guests are granted free admission on those evenings.
Radio Bar
Frequented by artists and art connoisseurs, Radio Bar is the go-to for cocktails in Tirana. Inspired by the communist period in Albania, the bar is adorned with retro décors like outdated radios sitting on shelves, old Albanian movie posters, and some worn-out photos. But don't mistake Radio Bar for just another "trendy" bar – it's a gay-friendly bar (which is a huge deal in Albania) that even locals recommend tourists. After all, cheap drinks and talented DJs are quite the draw.
Oda
For authentic Albanian cuisine with Ottoman culinary influences, Oda is the place to go. The cozy restaurant, which has recently undergone renovations, offers unforgettable traditional delicacies that vegetarians can also enjoy, such as peppers with cheese or stuffed eggplants. Locals also come here to enjoy old Albanian recipes paired with the country's national drink, rakia.
Berat
Known as the "City of a Thousand Windows," this scenic Balkan town offers a fascinating blend of ancient mosques and characteristic Ottoman-style houses, making Berat one of the highlights of Albania. 
If you have a penchant for UNESCO World Heritage Sites, you will instantly fall in love with Berat. Bordered by the wondrous Mount Tomorr and majestic Mal Shpirag, it is one of the world's oldest continuously inhabited cities filled with history. Divided by the pristine Osum River, Berat's two largest neighborhoods are Gorica and Mangalem. The inclining landscape of the latter is jotted with picturesque mosques and lined with rows and rows of white traditional Ottoman houses complete with tiny windows and brown roofs – aptly earning Berta's name of "City of a Thousand Windows." But for beautiful pictures of the old Ottoman facades – a great reminder of the Ottomans' occupation in Albania – cross the bridge to Gorica. Gorica is an equally gorgeous district welcoming visitors with its stoned houses, small Orthodox churches, and its insanely beautiful view of Mangalem.
Millennia old, Berat resembles the towns of Bhutan and Tibet. Stepping foot in Berat is like going back in time and witnessing the meld of the East and the West. Once here, you'll understand why this city is considered one of the Balkans' most stunning.
Places to See
Mangalem
This historic neighborhood of Berat is home to the city's most famous mosque: the Bachelors' Mosque. Pretty much a Muslim district, Mangalem is on a slope aligned with picturesque white Ottoman houses – some have turned into boutique hotels – finished with little windows and brown roofs. It's a haven for travelers to marvel at the charming and mostly renovated Ottoman architecture.
Kala
Kala is a castle on a hill overlooking the city of Berat. Sitting in a residential area, the fortress hides a small town containing many Byzantine churches, Ottoman mosques, and crumbling walls. Views are spectacular everywhere you go, but best at the highest point, the Inner Fortress, where you'll be able to see the town far below. Although the castle is open at all times, visitors need to purchase an entry ticket at the ticket booth by the main entrance, but it's only open between 9AM – 6PM.
Visit Some of the Mosques
Mangalem plays host to three impressive mosques: the Sultan's Mosque, the Lead Mosque, and the Bachelor's Mosque. They're all open to the public and unique in their own way. The first is one of the longest standing mosques in Albania, and it has an intricately carved ceiling behind the 16th-century mosque. Meanwhile, the 16th-century Lead Mosque is notable for its sphere-shaped dome coated with lead. If you head towards the Osumi River, you'll see the 19th-century Bachelor's Mosque, which, as suggested by its name, was built for unmarried men.
Ethnographic Museum
Once you've had enough of Berat's amazing views, head into the Ethnographic Museum to learn more about the city's history. Housed in an inviting18th-century Ottoman building, the institution first opened its doors in 1979. Here, you'll find artifacts, such as ancient clothes and tools, from various periods, including the Ottoman era.
Where to Eat
Mangalemi Restaurant
Mangalemi Restaurant is amongst the best restaurants in Albania for a slice of traditional food. Nestled in the old-world Hotel Mangalemi on a cobblestone street, the restaurant has an extensive menu that serves simple, home-cooked Berati fare, including an excellent veal kebab, mouth-watering grilled halloumi cheese and tavë kosi(lamb baked in yogurt sauce). If possible, dine out on the terrace to enjoy your food while overlooking the delightful Ottoman rooftops of Mangalem.

Lili Homemade Food
This beautiful family-run restaurant is a must-visit in Berat! Set deep in the Mangalem Quarter in a quaint home, Lili Homemade Food is owned by Lili, who will invite you up into his restaurant that is the courtyard of his house using impeccable English. Sometimes he'll let patrons play with his dog while his wife cooks up a storm.
The menu includes tons of tasty vegan options, such as stuffed eggplants and stuffed rice tomatoes, which are traditional Albanian food. Although an expensive place, the five-star hospitality and food make up for it. You'll have the time of your life here, especially if Lili manages to convince you to drink some of their homemade raki (liquor) or Turkish coffee, which is the best in Albania.
Antigoni
Most likely one of the most well-known restaurants in town, this famous establishment in Gorica serves authentic Albanian dishes. I recommend ordering their byrek, a traditional Albanian pie made from filo pastry and stuffed with spinach, and ending your meal with their baklava cake. The food is excellent especially when washed down with a glass of raki, traditional Balkan liquor known for aiding digestion, but Antigoni's breathtaking views of Osumi River and Mangalem is worth a shout-out too.
Gjirokastra
Emblemed by its beautiful old bazaar, its castle overlooking the entire city, and a sea of wooden slate-roofed houses on a slope, Gjirokastra is the pearl of Albania.
If Berat is the "City of a Thousand Windows," then Gijrokastra is the city of a thousand roofs. Just as charming and beautiful as Berat, Gijrokastra is another architectural gem with Ottoman influence. Listed as a World Heritage Site by UNESCO, it is the birthplace of communist dictator Enver Hoxha and Albania's most famous author, Ismail Kadare.
This magical hillside town used to have a Greek name while under the Byzantine Empire, which explains its strong community of the Greek minority. Afterward, the city fell under the Ottoman rule for roughly 500 years, and the 600 Ottoman houses from that time still stand on the maze of steep, cobblestoned streets. The 17th-century Ottoman-era houses are just one reason why the enchanting town is so appealing to visitors. Wandering through the city's ancient landmarks can take up to two days, so plan accordingly!
Things to Do in Gjirokastra
Visit the Fort
The main landmark of the city is undoubtedly the towering fortress sitting atop the hill. It's among the biggest and most stunning castles in the country. Reachable by a long staircase, the fortress, which was created to protect the city, has a rich history: the castle's prison was used during King Zog's rule, and also in WWII during the Italian and German occupation. In the 70s, the castle became host to a captured U.S. Air Force from WWII and two museums – one is a military museum housing memorabilia and artifacts dating from the Italian occupation.
Zekate House
This three-story house is a beautiful traditional structure from the Ottoman era that dates back to as early as 1811. Located up a hill, the well-preserved Zekate House is exemplary of the typical tower-house – think double-arched façade with twin towers – that 19th-century elites lived in. Ali Pasha's general administrator, Beqir Zeko, originally owned this enchanting building, which is in such good shape thanks to its strong defensive features. The upstairs galleries have sophisticated carved wooden ceilings, gorgeous stained-glass windows, and meticulous wall frescoes.
Visitors will enjoy gaining insight into the city's vernacular architecture and the inhabitants' lifestyle from years ago. Although the opening hours are pretty set in stone in the summer, the hours are fairly irregular during the winter months, so you can just ask the owners of this superb three-story house to show you around – they live right next door. 
Old Town
Overlooking the entire valley of the Drino Valley is Gjirokastra's fascinating old town. The UNESCO World Heritage Site is on the city's steep slopes with small houses dotting the landscape. The winding cobbled streets are quite the workout, but the perfectly preserved Ottoman architecture with its beautiful old wooden exteriors make the journey quite worth it. While strolling around, you'll probably come across the recently restored bazaar in old town strewn with boutiques selling souvenirs and traditional cafes here and there. The town's overflowing personality and character are what sets it apart from other towns.
Where to Stay
Kerculla Resort
Basically a scene from a fairytale, Kerculla Resort is absolutely dazzling. Perched on a cliff, the resort is surrounded by the green rolling hills of Albania. The sprawling view of the town and mountains from the outdoor pool will instantaneously brighten up your day. After a morning swim or an afternoon at the children's playground, regain your energy by having some amazing food at the onsite restaurant or wind down at the onsite bar. Other resort perks include barbecue facilities, horseriding, shared lounge, billiards, a garden and terrace. A night in a double room costs 15 euros with breakfast included.
Where to Eat
Taverna Tradicionale
For a hearty meal of traditional Albanian cuisine, wonderful hospitality, complimentary treats at the end of the meal, Taverna Tradicionale is the place to be. All the delicious food in this family-run restaurant is homemade, and the best part of it all is that the prices aren't marked up for tourists. Although there isn't an official menu, customers are invited to the back of the kitchen to see what dishes are being offered at the time. There will be a sufficient amount of vegetarian options in order to cater to all tastebuds. Some showrunners include their riceballs, meatballs, moussaka, cheese pie, stuffed eggplant, and aubergines.
Trifilia
Trifilia is an inviting restaurant located in the middle of the Permet town of Gjirokastra, employing friendly staff who can converse in English and Italian. The establishment boasts an authentic and traditional menu, served fresh and made with organic ingredients from the region. Vegan and vegetarian dishes are available here as well – think stuffed peppers, bean soup, and more. Most patrons tend to indulge in their meal in the lovely garden area in the back.
Kujtimi
Tucked away on a serene street in the old town, Kujtimi is a highly rated restaurant. Another genuine family-run business, Kujtimi offers affordable, appetizing, and fresh traditional Albanian dishes. Take the opportunity to try the qifqi girokastër (rice cake), shapkat (cabbage cake), or better yet, order the mixed platter to try an assortment of authentic local food all at once. Some perks include the English menu and a charming terrace. 
Valbonë & Komani Lake Ferry
Valbonë is more than just a mere quick stop for trekkers to Theth, it's an untouched alpine paradise with a wealth of hikers taking refuge from the unadulterated nature come nighttime.
The stunning valley of Valbonë, home to the Accursed Mountains and one of the most beautiful parts of Albania, is defined by lush meadows, wondrous waterfalls, crystalline rivers and verdant forests. With a tourism industry growing in stature, this remote mountain town is quickly becoming the country's premiere adventure destination.
Studded with beautiful trails and ready accommodation along the way, Valbonë is a big draw. Though it's one of the least developed mountain towns in Europe, there's certainly an added charm to that.
However, the best part about Valbonë is in the journey of getting there. The Komani Lake Ferry is among the most beautiful boat rides you will ever take – just imagine cruising the stunning turquoise lake, created by the damming of the Drin River, as marvelous mountains tower nearby. The ferry is undoubtedly a major highlight of Albania, rivaling sailing along the fjords of Norway.  
Where to stay
Valbonë Guesthouse
This guesthouse was the best accommodation I've come across in Albania. Its winning feature is definitely its top-notch location by the crystalline river, enveloped by the beautiful mountainous views. Every day before I set out on my adventure and every night when I returned, I was greeted by the incredibly friendly and warm family that runs the guesthouse. They made me feel right at home.
What to Do
You must explore the spectacular mountainous terrain of the Albanian Alps. You'll have an otherworldly experience coming across wild forests, ethereal waterfalls, underdeveloped rural villages, and tranquil scenery.
Since you're already in Valbonë, make the trek to Theth, as most visitors do. The hike is the best way to explore the stunning Valbonë Valley National Park and it is the only way to get to Theth from Valbonë. The trail takes you to the top of the mountain and then back down on the other side where Theth is situated. Just remember to pause and gaze at the astounding view of the valley beneath you when you're at the highest point.
When you finally reach Theth, you'll be rewarded with a stunning alpine village that's on par with other beautiful Albanian destinations. It's even more secluded and less developed than Valbonë, but visiting Theth is an amazing experience and a great way to reconnect with yourself.  
You can find some information about the hike below:
Difficulty: Moderate
Distance: 17 km
Type: Mostly a steep ascend
Duration: 6-8 hours
Cafes: 4 cafes with 2 close to either town. You can fill water from the springs at the cafes
Mules are available to carry luggage
Things to Do in Theth
Embark on a half-day hike to the Blue Eye, a natural spring with turquoise waters fed by a small waterfall. The rare beauty is situated up in the mountains to the southwest of Theth and hidden in the heart of the beautiful forest. Don't be afraid to take a dip in the spring, which formed due to the gushing waters of the Alps' melted glaciers eroding the rocks. If you want to really relax here, cold drinks chilled in the lake water are sold nearby.
Where to Stay in Theth
Guesthouse "Gjin Thana"
You will feel right at home at this lovely family guest house that's just a seven-minute walk from the Theth center. The host speaks fluent English and is always available to provide recommendations for what to do and see, including hiking and fishing nearby. Though the host might give you restaurant suggestions, know that the lovely home-cooked food here is quite amazing. Not to mention, the guesthouse offers magnificent river and mountain views from the rooms. A night in a triple room with shared bathroom and breakfast costs 30 Euros.
Saranda
Once a sleepy fishing town, this dreamy seaside village is a quintessential summertime favorite home to fine Mediterranean  beaches, a thriving nightlife scene, and natural phenomenons.
Considered the unofficial capital of the Albania Riviera, Saranda is a major hotspot among locals during the warmer months. Situated in southern Albania, this beautiful coastal city is washed by crystal clear turquoise waters and backed by gorgeous white facades. Aside from the pebble bay, Saranda also boasts a vibrant nightlife offering plenty of restaurants and clubs frequented by both tourists and locals. Situated close to many terrific destinations like Gijrokastra, Berat and the geological treasure Blue Eye, Saranda is a great base to explore these places.
Things to See in and Around Saranda
Synagogue Complex
Many centuries ago, a rather populous community of affluent Jewish people called Saranda home, as Albania was the sole European country that protected them from concentration camps during World War II. Though traces of the Jewish community have mostly been destroyed during invasion, remnants of their presence can still be found at the Synagogue Complex, sitting in the middle of Saranda by city hall. The ancient building once included a community center and school used for bible studies and a synagogue.
Bulevardi Hasan
Before you visit Saranda's gorgeous beaches, you should walk along this beautiful, recently renovated boulevard while enjoying the spectacular sea views. It lies on the north shore of the Saranda bay and allows beach access. You'll be able to enjoy a drink or a small bite at one of the many bars and cafes along this long, wonderful seaside walkway. It's also a great place to find some souvenirs for friends and family back at home at one of the marketplaces open in the summertime.
Lëkurësi Castle
Strategically situated on a hilltop looking out on Saranda and the Albanian Riviera, this castle is the perfect place to watch the sunset. Dating from the mid-1500s, the castle now houses a restaurant reachable by taxi for just about US$2 or a 40-minute hike. Regardless of your transportation method, it'll be worth it because this castle is possibly the highlight of Saranda.
Blue Eye
Albania has two Blue Eyes and one of them is located just 30 minutes from downtown Saranda. This popular tourist attraction is a freshwater spring of insanely clear blue water. The color and the natural roundness slightly resembles an enormous iris, hence its name. Divers have yet to figure out how deep the spring is because of the strong currents, but it is estimated to be more than 50 meters deep. Also, swimming is not advised since the water is 10 degrees year-round. Although an awesome treasure, this Blue Eye is not as impressive as the one in Theth.
Ksamil
Ksamil is often referred to as "the pearl of Ionian Sea" and for good reason. Lying just 30 minutes away from Saranda, Ksamil is an absolutely stunning destination surrounded by turquoise water, beautiful beaches, and a handful of islands. You can reach the small islands by boat or swim. Bear in mind that during the summer months, Ksamil can get extremely crowded as it is one of the best beach destinations in Albania.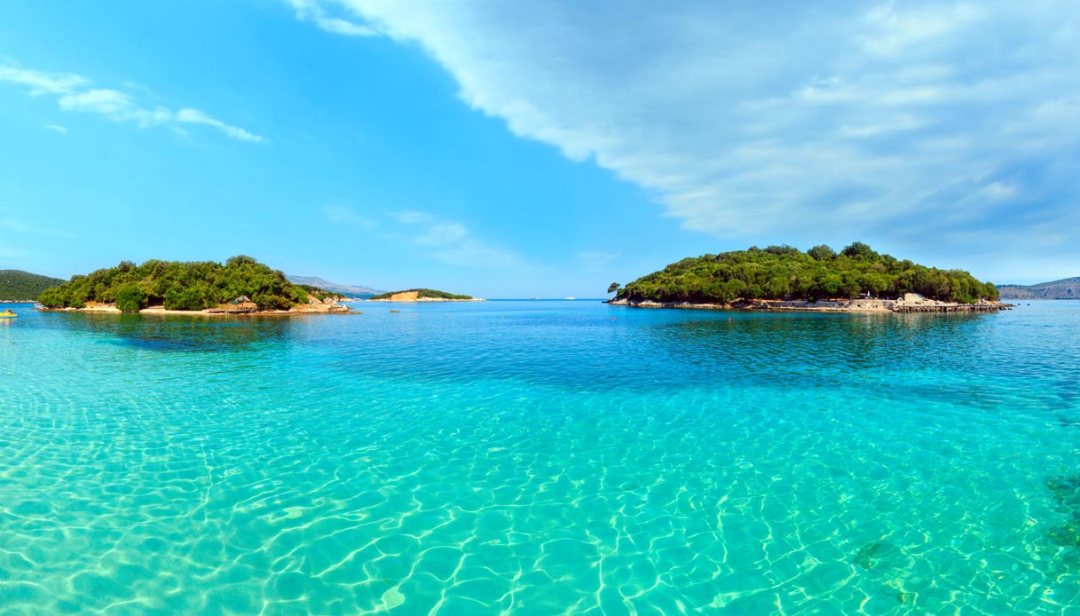 Dhermi
This beautiful coastal hamlet of the Albanian Riviera is home to some of the best beaches in the country. Far from the crowds of Saranda, Dhermi is the epitome of a tranquil getaway. Its cobblestone streets host small Orthodox churches, charming homes, and lively music festivals in the summer. If you're visiting in late June, experience Dhermi's idea of a good time at the Kala Festival. You'll also be able to indulge in delicious fresh seafood in the vicinity of Dhermi's great beaches.
Llogara National Park
Take in the sun shifting on your horizon, sheep grazing under the rolling clouds, and wild animals wandering the dense forests in this national park. This mountainside beauty is a two-hour drive north of Saranda, towering the Albanian Rivieria, and on the main coastal highway. It features incredible mountain and forest backdrop, and the famous Llogara Pass. The mountain pass is frequented by travelers heading to Dhermi from Vlora, and it offers panoramic views over the coast and sea. You can expect pine tree forests, alpine meadows, and high-rise mountains on this scenic drive.
Butrint National Park
When one thinks of the Albanian Riviera, Butrint National Park also comes to mind. The ancient walls of Butrint tell stories of its past inhabitation by the Greek Colony, the Romans, and the Venetians. Once considered a fine and beautiful city, Butrint went into a long decline when it was abandoned in the late Middle Ages because of the marshes that fashioned in the area. Today, the extraordinary collection of ruins is a UNESCO World Heritage Site and Albania's most beautiful archaeological site. Surrounded by a picturesque lagoon and gorgeous mountains, the park is home to lots of wildlife, so there's plenty to see!
Where to Eat in Saranda
Mare Nostrum
Fresh seafood delicacies are a must in Saranda and this waterfront restaurant delivers exactly that. Not only will you find experimental Mediterranean dishes like octopus served with spinach cream sauce in this contemporary establishment, but also fusion options – think Indonesian chicken curry and the likes – at affordable prices. Enjoy local fish, seafood, produce, and excellent service while facing the buzzing beachfront promenade.
Restaurant Harmony
If you want to sit back under the red-hued sky and enjoy the sea breeze with some red wine and cheese, Restaurant Harmony is perfect for you. The eatery, located inside Harmony Hotel and just outside of Saranda, offers a diverse menu of elegant seafood fare, delicious aperitifs to get the ball rolling, tasty meat-based dishes, and fresh salads. To say the food is amazing is an understatement, especially when it comes to the spring rolls. The friendly staff, wonderful atmosphere, and divine view will just better your experience.
Jericho Cocktail Bar
Situated on the main boulevard of Saranda and overlooking the sea is Jericho Cocktail Bar. This beautiful establishment is the perfect spot to indulge a drink or two. Stop by during the day to play with the young crowd or come at night to mingle with an older party. Although food is not served here, Jericho offers a great selection of cocktails, made with local fruits, and a wonderful playlist consisting of American hits from the 60s to present day. This small bar can get packed during the weekends, but the friendly staff will do their best to make your experience unforgettable.
Terrace Cocktail Bar
There's nothing better than sipping on a fantastic cocktail while overlooking the beautiful Ionian Sea and the charming town of Saranda. Located just above the central fishing port of Saranda, Terrace Cocktail Bar has killer views and even better cocktails for just 4 euros. Plush seats and a picturesque palm tree will make your experience even more enjoyable.
How to Get around
Furgons
These privately owned minibusses are the preferred way to travel in Albania because they operate in many places and super affordable. Both locals and travelers use Furgons when going from Tirana to Skhoder, Tirana to Saranda and Saranda to Berat and Gijrokastra. They are all very popular routes. You can flag the minibusses down whenever you spot one – just notify the driver of your final destination!
Buses
While buses are another great option, they do not run in as many places as Furgons do, and like Furgons, they don't have a set schedule.
Taxis
While taxis are the most comfortable and private mode of transportation, they can be quite costly depending on the distance between the pick-up and drop-off point. Even two attractions that aren't that far apart would result in an expensive taxi ride even by Albania's standards. For example, a 10-minute taxi ride can cost between 400 ALL to 500 ALL.
Tours
It's not a secret that Albania is home to loads of attractions and landmarks, but not all of them can be reached by bus or Furgons. Also, buses and Furgons are unorganized in that they do not have fixed schedules and routes. To avoid all the hassle that comes with transportation, you can book tours with Tour Albania and Balkans. They offer several tours as well as customized tours that suit your needs, including a tour around the Balkans. The car provided is of top quality and the driver knows English. You can click here for more details.
How to Get to Albania
If you are coming to Albania via plane, the country's main airport is in Tirana and you will be landing here. Unfortunately, there are no direct flights from India to Albania.
However, some buses to Tirana from Istanbul, Athens, Prishtina, Tetovo, Thessaloniki, Sofia, Larisa, Ohrid and Ulcinj.
You can reach Saranda from Corfu by a ferry and some ferries run from Bari to Durres as well.
Budget
Stay in a hostel                                 8-12 Euros
Stay in budget hotel                        25-40 Euros 
Stay in a top end hotel                    From 75 Euros
Intercity Furgons                             2-8 Euros
Day trips                                             20-40 Euros
Cheap Meals                                      2-4 Euros
Dinner at leading restaurants       15-20 Euros
7-10 days tour around Albania    500-600 Euros including stay at 3 or a 4 star hotel  
                                                             with a bus/car/ minivan and a guide.
Renting a car                                      40-80 Euros per day